Ruth Mitchell is an award winning, southwest based, theatre maker who works across sited and traditional performance, creating work that is rooted in heritage and auto/biography and where the site has been the inspiration for the work.
---
Ruth has been a leading actor for over thirty years; for four of those years she was with the Royal Shakespeare Company and toured the world with Katie Mitchell's production of Henry VI, receiving a Best Actor nomination for the Manchester Evening News awards for her role as Queen Margaret.  Ruth has appeared in the premieres of the award winning new plays, Kindertransport, for the Soho Theatre and Smoke for the Manchester Royal Exchange and in Ted Hughes' modern version of Spring Awakening for the RSC. She is one of a handful of female actors to have played Hamlet in an all female production for Sphinx Theatre Company, a Guardian  article on female Hamlets here.
Ruth is a founder member of theatre collective ripple and an associate artist with Dreadnought South West. Ruth is an associate lecturer at Plymouth Conservatoire for the B.A.Acting and M.A.Acting courses and a visiting director at Falmouth University.
Since 2013 Ruth has written and performed in three solo shows; Coffee with Vera, Homeward Bound and The Secret Listener, and is currently touring her new show Invisible Other, which is a 2021 Lab Associate commission by the Theatre Royal Plymouth.
---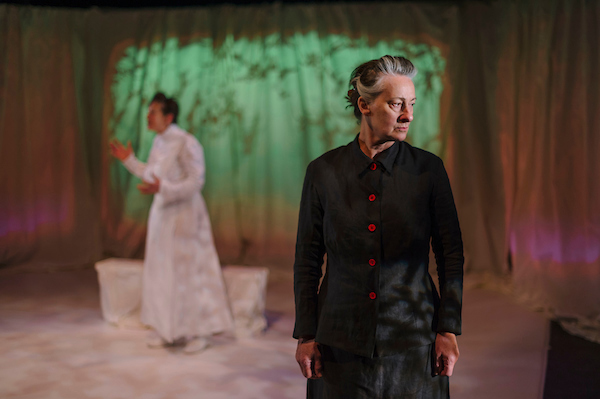 ---
The Cause, Dreadnought SW photo by Jim Wileman
---
"Homeward Bound was, without question, one of the best shows I have ever watched." Rosemary Waugh, Exeunt
---
"Mitchell's willingness to depict relationships entirely without cynicism, and her commitment to the lives of ordinary women, actually makes hers a quietly radical voice".   Lucien Waugh, Exeunt
---
"A wonderfully engaging and charismatic piece of theatre. Seamlessly moving between Ruth's own family story and the multi character tale of Olive Myler.  Enhanced by an immersive soundscape, The Secret Listener is brilliantly captivating"  Fin Irwin, Director, The Old Library, Bodmin
---

---